Nano's
Custom Made
Mallets

Professional and Prompt
Mallet Repair Service
Tipa Wood Heads
Wide Selection of Canes
We supply cane, grips &
heads for repair
Custom colors on request
Light mallets for
women, children,
arena and bikes
New Mallets
in Stock
OPEN YEAR-AROUND



3500 Fairlane Farms Road.
Suite #6
West Palm Beach, FL 33414
(800) 903-NANO (6266)
Tel. (561) 793-4911
Fax (561) 793-4714
Adriano "Nano" Perez
Adriano "Nano" Perez started manufacturing and repairing polo mallets in his native country Argentina, Mendoza, 1969. He moved to the United States in 1988 and has earned an unrivaled reputation for his superior excellence. He established Nano's Polo Mallets, Inc. in 1993 in Wellington, Florida. Custom-made mallets are our specialty. We have plenty of mallets in stock that meet the needs of our clients the world over.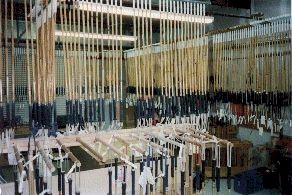 "Nano" travels to Asia and Argentina, carefully selecting the best canes and highest quality materials available.
"Nano," commonly known as the "World's Best Repairman." Send your broken or old mallets and they will return like new.
Making a Polo Mallet
The finest polo mallets share a common heritage. They originate from a special cane which grows in the rain forests of Asia and an unusual tree found only in a certain area of South America.
Unlike ordinary bamboo, which prepared mallet canes resemble, the thorny stalks used for polo mallets come from a cane called Manau, a thorny member of the palm family. Snaking its way through the jungle in search of sunlight, this cane reaches 600 feet after 15 years. Although mature, the cane is still considered young by Asian government standards for protection of the species, making harvesting of the smaller diameter cane needed for polo mallets difficult.
Once selected and determined mature, the cane is cut near the root where it is strongest. Nine foot lengths are boiled in coconut and diesel oil for 10-15 minutes until yellow, then washed in a mixture of sand and water. When clean, the canes are bundled and stacked to dry to the familiar shades of gold and beige. When the' mallet maker receives his canes, he must heat them over an open fire to straighten them, then cure the lengths in a special oven. The length of time for the curing is critical to the strength and durability of a cane and is determined by the weight of each.
As polo players have different preferences regarding flexibility (whippiness) and weight of their mallets, some prefer to select their own canes before they are attached to the mallet head. Because the best mallets are carefully balanced, it is critical that cane and head be compatible in terms of weight.
Finally, the cane is attached to the mallet head, a cigar-shaped piece of wood cut from the Tipa tree, an unusually durable, close grained variety, found only in northern Argentina and parts of Brazil and Paraguay.

You are the
visitor